Kiren Bansal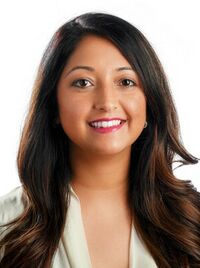 Kiren Bansal, MA Global Affairs '12, is an expert in international relations with a special focus in evaluating issues and initiatives through the study of foreign policies. She is currently a freelance social impact consultant in Santa Monica, California. Previously, she was the associate vice president of development at Population Media Center, an international nongovernmental organization. Bansal has more than 19 years of nonprofit management experience in areas such as business and development operations, program management, marketing, and fundraising for local, regional, and international organizations.
A first-generation college student, Bansal was part of the inaugural cohort of master's students in Mason's Global Affairs Program, and she completed study abroad experiences in Argentina and England, where she studied at Oxford University. "This experience helped me see the world and its issues from an international perspective and prepared me to be able to overcome the intercultural challenges that we encounter frequently in the global affairs industry."
Bansal is passionate about creating a more equitable and just society where BIPOC communities are fully embraced and can thrive safely. She credits Mason with giving her the confidence and affirmation she needed to continue thinking critically about how to approach this work and to learn from the rich experiences of those in her program.
She encourages others who may be on the fence about pursuing a graduate degree while working full time to make the commitment. "I encourage the working community willing to pursue a higher education degree to do it, take the risk. It takes a lot of effort, but your sacrifice and hard work will pay off."
Bansal helped launch the Mason alumni chapter in the greater Los Angeles area, is a member of the CHSS Alumni Chapter Board, and serves on the Trojan Entertainment Network alumni board. She enjoys reading, outdoor activities, and trying food from countries around the world.
Published in the CHSS annual report 2020-21.
2023 update: Bansal is founder of Stardust Consult, a full-service project management and strategy consulting firm that helps social impact organizations do good, better.