Heather Miller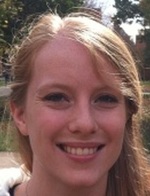 What is your involvement on campus?
I work at the university bookstore. I actually do a good bit of informal advising and help other students select the appropriate books for their classes. I am also a research assistant for Dr. Andrew Bickford. In my free time, I give fencing lessons to friends on-campus. I started fencing way back in seventh grade.
What has been your favorite class?
I have two top courses. History 388- Pagans & Christians. This class discussed the various Pagan cultures and their interactions with the rising Christian religion. It was the first class that got me excited about research. Anthropology 396- Anthropology of Reenactment .The entire class is based on 'nerd culture.' It explored why escapism is necessary and why people enjoy the involvement. It was one of the most enjoyable classes I have ever taken here at Mason.
What are you most excited about for the 2013-2014 academic year?
I am excited take the English Advanced Fiction Workshop class. I hope to further develop my writing skills. My ultimate goal is to publish a fantasy novel.
What are your career goals after graduating from Mason?
I am exploring applying to graduate Archeology programs. I am interested in other future research options. My research work with Dr. Bickford and my own independent research has proven to be quite valuable. I am currently taking History 386 the College to Career course to advance my professional possibilities.
Tell me about your internship?
In the summer of 2011 I excavated a sixth century church in Bulgaria. It was a wonderful opportunity to gets some hands-on archeology experience. I highly recommend doing an internship abroad.
What has been your most meaningful experience at Mason?
The people here at Mason are incredibly tolerant and encouraging. I've had wonderful experiences with both students and faculty and staff here. Mason is really a positive environment.
If you could have dinner with one real or fictional historical figure who would you choose and why?
I would give Louis Pasteur a huge high five and have dinner with him. I love milk and drink it all the time. Of course we would have milk with our meal.