William D. Johnson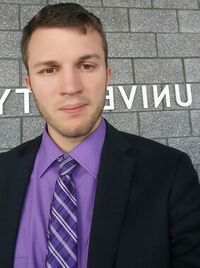 Describe your dissertation, thesis, or capstone (if you completed one):
My dissertation evaluated the impact that content variations in written hate crime policy would have on officer performance. I conducted a randomized experiment in which police academy students were given one of three written policies and asked to provide a written response to a scenario and answer survey questions. The results showed that a balanced approach to written policy that provided needed detail but did so in a concise user-friendly format, provided the best results.
How did you choose your specific area of study?
The decision to research hate crime was very personal to me as a gay man and a member of a community that is still targeted by reactionary violence. While I have seen great strides toward equality, there is still more work to be done to address the threat of extremism and strengthen the police response to it. My greatest hope is that my work in this area can help to better address hate crime and reduce the threat faced by those targeted by violence.
How did your academic experiences in the College of Humanities and Social Sciences impact you?
My time at Mason has been incredibly enriching, surrounded by amazing faculty members with a shared commitment to making the world a better and safer place. The courses I took deepened my interest in the fields of Criminology and Sociology while also connecting me to current research and practice. They deepened my interest in research and in sharing that knowledge with others.
Of which accomplishment(s) during your time at Mason are you most proud?
While at Mason I had the opportunity to teach undergraduate courses on hate crimes and human rights and justice. Teaching students who were passionate about increasing justice in our society and watching their understanding grow was very rewarding. Just as rewarding were the projects I worked on at the Center for Evidence-Based Crime Policy with Dr. Lum and Dr. Koper. The center is doing amazing work to advance the study of policing and contributing to the work of the center has been a wonderful experience.
Are there faculty or staff members who made a difference during your Mason career?
To name just a few of the faculty members who contributed greatly to my time at Mason I will start with Dr. Willis, who was my professor for my first criminology class at Mason and has been an integral part of my time at Mason from that point forward, including as a committee member for both my thesis and dissertation. He was always a source of encouragement for my continued academic development. Dr. Koper was my faculty advisor and the chair of my thesis and dissertation. His guidance and comments throughout the process were indispensable and I cannot imagine my time at Mason without working with him. I would also like to thank Dr. Lum and Dr. Johnson who were both wonderful professors and offered me valuable guidance during my time at Mason.
What advice would you give to an incoming cohort of graduate students?
Take full advantage of your time at Mason to explore teaching and research opportunities inside your department. Never lose faith in your belief that a better world is possible if we collectively work towards it, and never discount the part you have to play in building better worlds.
What are your current career plans following graduation? What are your long-term career goals?
I am currently pursuing several career opportunities including a position with the Southern Poverty Law Center and teaching opportunities in academia. The common thread in my long-term career plans is working in positions that focus on advancing the cause of justice and creating places where people can feel safe from the threat of violence.